P&S Face Masks
P&S Healthcare brings to you a 3 layer face mask complete with a new ViralOff® fabric with Polygiene Technology.
Consisting of a layer of 100% spun cotton, a white polycotton layer and a layer of the new ViralOff® fabric. This fabric is treated with the latest Polygiene Technology completing the 3 layers of this mask. Along with the soft elasticated ear hooks and a wired nose bridge to help hold the mask securely in place.
The P&S face mask is available in Black and White in Adult and Small Adult sizing. We would also like to now introduce our NEW CHILD face mask that is DUAL LAYER and comes in 7 colour options. Please see the the product tab (Childs Face Mask)
Washable and reusable - with the polygiene you do not need to wash after every use.
Please ensure that you choose the correct size mask at the time of ordering because once a mask has been opened it cannot be returned for a refund. Sizing is on each page of the masks and can also be located below
Sizing Guide:
Small Adult measurements:- Nose to Chin: 14cm and Width: 20cm
Adult measurements:- Nose to Chin: 16cm and Width: 24cm
Child measurements:- Nose to Chin: 12cm and Width: 18cm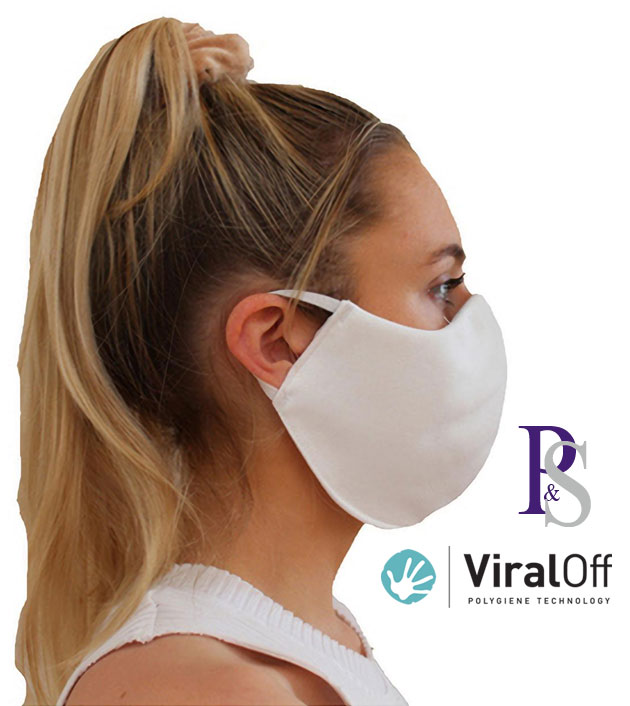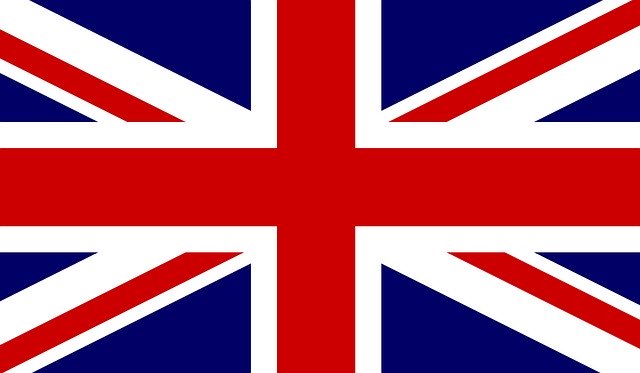 Made In the U.K
Designed and manufactured here in the U.K. ensuring the high quality and standards our range has become known for is always maintained.
We pride ourselves on being a British manufacturer who has been established for over 30 years
What is ViralOff® fabric with Polygiene Technology?
ViralOff polygiene technology is a treatment of textiles and other products that reduce viruses by over 99% over two hours. On a product treated with ViralOff, over 99% of viruses in the treated material will be killed over a two-hour timespan*. This is tested by ISO18184:2019 and is an assurance that the product lives up to a standard of performance. ViralOff doesn't interfere with the skin's natural bacterial flora.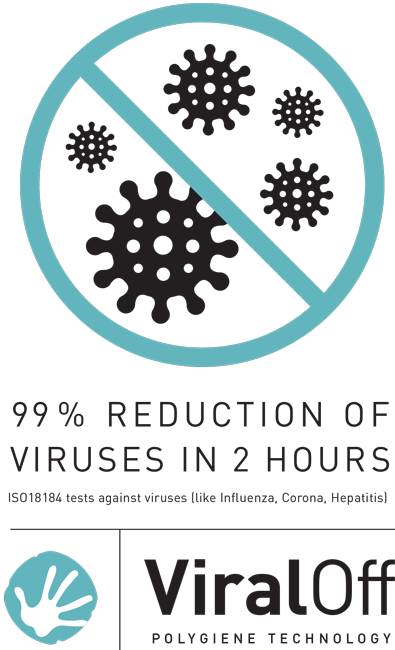 What are the benefits of ViralOff®?
Viral reduction of 99% or more. In these times, we need to say little more. But to spell it out, there are many instances where you simply don't want viruses to thrive, be it in hospital wear, in operation scrubs, in facemasks, medical and mountain rescue team wear, and so on. But also, in certain consumer products that are on your face or easily touch your face. Many products will benefit from this protection as they also can be used longer. Washing over time will reduce the polygiene but because the face mask is treated with polygiene you will not need to wash as regularly as a standard cotton mask.